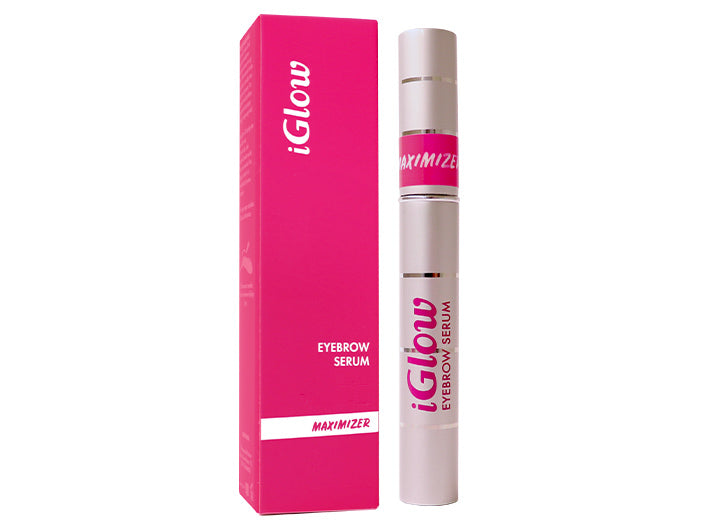 iGlow Brow Maximizer – Eyebrow Serum, 3ml

How to use the iGlow Brow Maximizer

Key Features

Contents

Caution

Ingredients
iGlow Brow Maximizer – Eyebrow Serum, 3ml
The new iGlow Brow Maximizer is the perfect eyebrow serum for those who want fuller and darker brows. The results usually appear after 6 to 14 weeks. Some need up to 16 weeks for optimal results. iGlow's mission is to always deliver the best and safest serums on the market. The iGlow Brow Maximizer has therefore undergone dermatological and ophthalmic studies to ensure that you get the safest and most gentle product, while also being the most effective. The product is vegan and not animal tested.
Get fuller and darker eyebrows in only 6-14 weeks with the iGlow Brow Maximizer. 

iGlow is the brow serum that actually keeps its promises. 
How to use the iGlow Brow Maximizer

Use iGlow Brow Maximizer twice daily, until you have achieved the desired results. The results are then maintained by applying 2-4 times per week. If you stop using the serum, the effect will diminish and the eyebrows will eventually grow back to their natural form over time. Please note that results vary from person to person. Please reach out and send an email to post@iglow.me if you have any questions.

• Skin must be clean and dry before application (no oils, creams or makeup).

• Apply twice per day, above or below your eyebrows, or on hairless areas.

• Apply on clean skin, so the serum can sink into the skin and stimulate your hair follicles.

• When desired results are achieved, apply 2-4 times per week to maintain.
Efficient, gentle and safe

Vegan and cruelty-free

Money-back guarantee

Does not contain any oils.

Clinically tested with documented effect. All ingredients are approved by the EU Cosmetic Directive.

Vegan and cruelty free.
One serum contains 3 ml and lasts for about 3 months with normal daily use.
Shelf life: 24 months before opened. 6 months after opened.

If you are sensitive to makeup products, try first with a patch test on the skin on your arm to see if you have any reactions. Remember that you only need to apply a thin layer every day. If you get serum in your eyes, rinse with lukewarm water. For ethical reasons, iGlow has not been tested on vulnerable groups. Do not use if pregnant, breast-feeding or undergoing chemotherapy. Recommended age limit is 18 years. NOTE: Read the supplied instruction manual carefully before use.
Aqua, Glycerin, Panthenol, Sodium Citrate, Leuconostoc/radish Root Ferment Filtrate Alanine, Alcohol, Arctostaphylos Uva Ursi Leaf Extract, Arginine, Aspartic Acid, Calcium Gluconate, Caprylyl Glycol, Chamomilla Recutita Flower Extract, Ethylhexylglycerin, Gluconolactone, Glycine, Hexylene Glycol, Histidine, Hydrolyzed Glycosaminoglycans, Hydrolyzed Yeast Extract, Hydroxyethylcellulose, Isoleucine, Isopropyl Cloprostenate, Magnesium Ascorbyl Phosphate, Panax Ginseng Root Extract, Pca, Phenylalanine, Polysorbate 20, Proline, Propylene Glycol, Serine, Sodium Hyaluronate, Sodium Lactate, Sodium Pca, Threonine, Tocopheryl Acetate, Triethanolamine, Valine, Vitis Vinifera Seed Extract, Phenoxyethanol, Sodium Benzoate, Sodium Metabisulfite.